Participating Organizations Webinar - January 25th, 2024
Registration information coming soon for the ASW 2024 Webinar Series.
America Saves Week is April 8 - 12, 2024
Theme: Saving For What Matters Most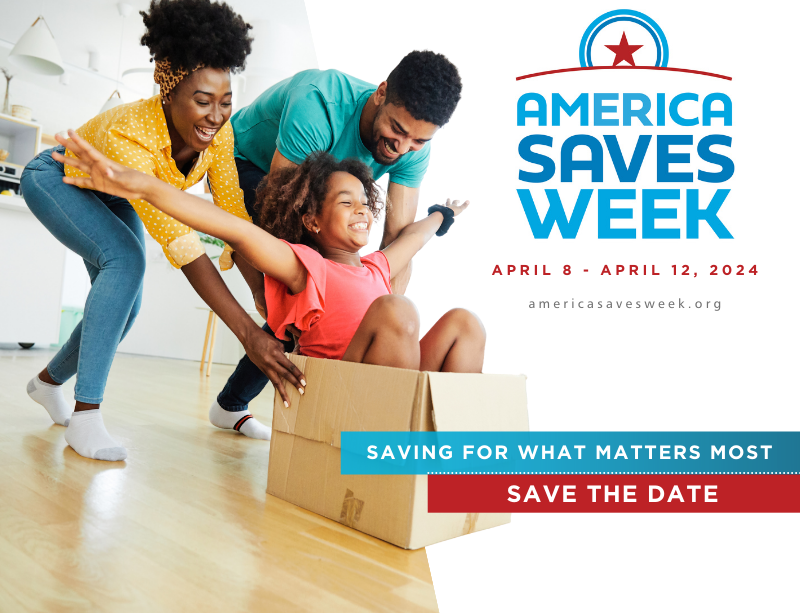 What Is America Saves Week?
Since 2007 America Saves Week has been an annual celebration as well as a call to action for everyday Americans to commit to saving successfully. Through the support of thousands of participating organizations, together we encourage individuals to do a financial check-in that allows them to get a clear view of their finances, set savings goals, and create a plan to achieve them.
During the week, we'll be focusing on the following themes:
Monday, April 8, 2024 | Saving Automatically
Tuesday, April 9, 2024 | Saving for the Unexpected
Wednesday, April 10, 2024 | Saving for Major Milestones
Thursday, April 11, 2024 | Paying Down Debt is Saving
Friday, April 12, 2024 | Saving at Any Age
Additional content, messaging, special events, and resources to support the #ASW2024 themes will be available inside the #ASW2024 Digital Toolkit upon release.
Sign Up for America Saves Week
Be recognized on the America Saves Week website as a Participating Organization and get access to the Digital Toolkit!
About America Saves Week 2024
 
This America Saves Week we'll join together and elevate a national conversation that encourages individuals to take control of their financial future. No matter where your community is on their financial journey, they'll clearly see the steps they can take now that will inform and shore up their financial stability. 
As always, each day of America Saves Week will have its own theme that touches on five important areas of financial wellness; however, this year some of those themes have been broadened so that you, our participating organizations, can connect with the concepts in the way that best supports your community and the work you do. 
 
Together, thousands of organizations and institutions will amplify information, resources, and tools that will ensure we are prepared for the next emergency. 
Sign up to become a participating organization. As a participating organization, you'll receive access to the America Saves Week 2024 Digital Toolkit (upon release), invitations to exclusive webinars, and training in how to make the most of #ASW2024 and become eligible to earn the Designation of Savings Excellence or Savings Champions awards.
Sign Up for America Saves Week
Get access to the America Saves Week Digital Toolkit.
Be recognized on the America Saves Week website as a Participating Organization.
Get exclusive invites to webinars and training opportunities with the America Saves staff to help make it a successful week.
Be eligible to earn the coveted Designation of Savings Excellence and Savings Champion Awards.